Global Marketing Seminars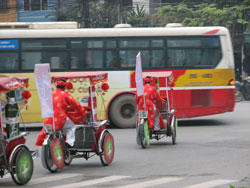 Examples of Marketing, Promotion, Advertising, Media and related subjects from several countries including Argentina, Austria, Belize, Botswana, Burma (Myanmar), Canada, Chile, China, Dubai, Ecuador, Egypt, Finland, France, Germany, Guatemala, Greenland, Holland, Iceland, India, Italy, Kingdom of Eswatini (Swaziland), Malaysia, Monte Carlo, Netherlands, Peru, Poland, Rwanda, South Africa, Spain, Sri Lanka, Switzerland, Tanzania, Thailand, United Arab Emirates, Vietnam, Zimbabwe and others.
Conducted global marketing seminars.

Seminars are usually one and two-day marketing seminars which include relevant, timely marketing topics for general managers, agency presidents and marketing directors.

Sessions have been held in Beijing, Hong Kong, Cuba and Shanghai.

Topics include: Global Strategies, Management, Marketing, Segmentation, Targeting, Pricing, Promotion and many aspects under the four P's and the Nine P's/9P'© of Marketing. Also see Advertising and Media Vehicles.



Photos and events featured include: 2010 World Cup, 2014 FIBA Basketball World Cup, Super Bowls, retail, and city/regional/country promotions.

Click on thumbnails to view images larger.