What is an Expert Witness?
One with specialized knowledge of a particular subject, who can defend one's opinion(s) with reliable information and research. Someone with experience, education and training in a particular subject matter who can help the judge and/or jury decide a case. An Expert Witness is someone who possesses a few to several attributes related to the specific topic at hand, such as Marketing, Advertising, Media, Trademarks, Intellectual Property, etc.
Some of these attributes are experience, knowledge, training and ongoing education, research, data and/or ability to articulate this knowledge to the legal/court system.
Another way of looking at the subject: Professionals, who know their subject areas well, know how to communicate their knowledge, experience and expertise to others in everyday language and words.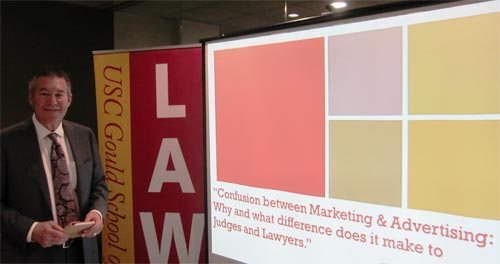 Comparing an Expert Witness to a Good Teacher?
An expert witness is a witness who, by possessing special knowledge, skill, training, or experience, is qualified to provide testimony in matters that exceed the common knowledge of ordinary people. At the heart or center of it, an expert witness is a teacher.
If you think about the qualities that make a good teacher, those are the qualities that are required to be a good expert. A good teacher has extensive knowledge of their subject matter. A good teacher is organized, with the subjects and material presented. The lecture, exhibits and PowerPoint presentations are presented in a logical manner. A good teacher is prepared and understands the work that was done, and is ready to answer questions asked by students, or in the case a judge, jury or arbiter.
A good teacher is always patient, calm, thoughtful, and respectful.
The Role of an Expert Witness
In the American judicial system, the role of an expert witness is "to assist the trier of fact (judge or jury) to understand the evidence, or determine a fact at issue." (Federal Rules of Evidence, Rule 702). An expert can be qualified "through knowledge, skill, experience, training or education." (Federal Rules of Evidence, Rule 702).
The role as an expert is to tell the truth, transmit "specialized knowledge" and render an opinion or opinions.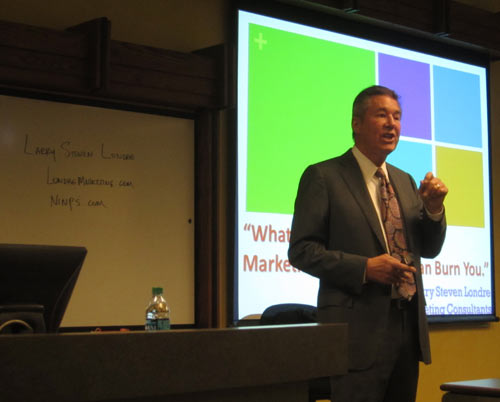 Larry Steven Londre's Expert Witness Cases
Larry Steven Londre's expert witness cases have involved: marketing; advertising; breach of contract; business practices; business and professions code compliance and violations, including unfair competition, unlawful, or unfair, or fraudulent business activities; contracts, sponsorships; false advertising; trade libel; media; trademark infringement; intellectual property; patents; usage of models; advertising agencies; trade secrets; client business practices; unfair advertising; deceptive advertising; violations of Lanham Act; unjust enrichment; trademarks at issue; comparative advertising/promotion; licensing; packaging; the value of advertising and media campaigns.
Cases included contracts between partners, directors, advertising agencies, clients, advertisers, suppliers, distributors, production firms and media. Litigation support, approximately 53% plaintiff and 47% defendant cases. Also provided pre-litigation analysis for both sides on pending litigations.
Londre's previous expert witness cases have involved attorneys and law firms in California, Arizona, Colorado, Kansas, Washington, New York, Texas, Florida, Nevada, North Carolina, South Carolina, Michigan, Minnesota, Missouri, Pennsylvania, Utah, along with the American Arbitration Association (AAA) and JAMS (Judicial Arbitration and Mediation Services).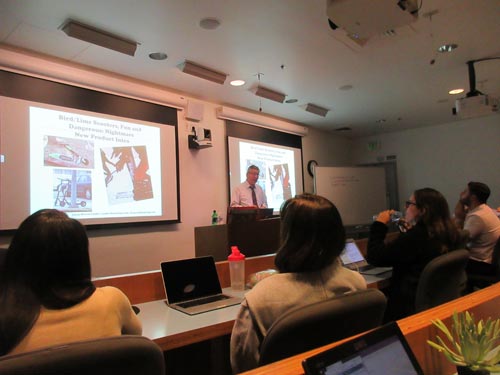 As a Marketing and advertising expert plus marketing consultant he's trying to help attorneys from misusing terms whether in court, in a deposition or in a filing. The genesis of Larry's latest Marketing presentations go back to attorneys misusing terms and the words/terms "marketing" and "advertising" interchangeably. Larry has taught Marketing, Advertising, Business Strategies and Global Marketing at USC, CSUN, LMU, Pepperdine and has made hundreds of presentations also at Advertising Center, UCLA, Pepperdine, Foshay High School, and others.
At UCLA School of Law: "What is Marketing? What is Adverting? Promotion? Sales Promotion? Nine P's of Marketing?

At Southwestern School of Law: "What you don't know about Marketing & Advertising can burn you."

At USC School of Law: "Confusion between Marketing & Advertising: Why and what difference does it make to Judges and Lawyers. Plus the 9 P's of Marketing."

At Loyola Law School: "What is Marketing? Advertising? With the Nine P's, Targeting – "People," Branding, e-Commerce, Behavior, Promotion, with Global Experiences and 9P's of Marketing."
Larry presents contemporary examples and insights; he is told his presentations are "fun, educational, and interactive." He has given international/global seminars and his talks and presentations use both USA and global marketing examples.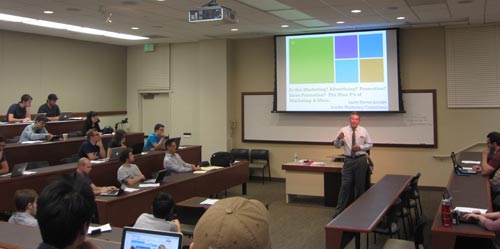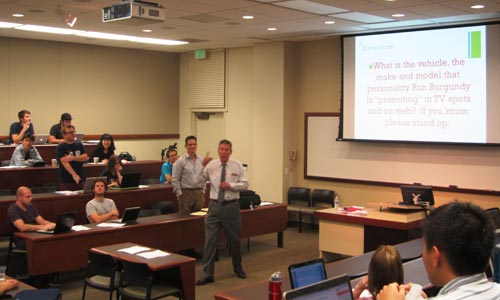 Expert testimony admissibility is governed by Federal Rule of Evidence 702, which states: "If scientific, technical or other specialized knowledge will assist the trier of fact to understand the evidence or to determine a fact in issue, a witness qualified as an expert by knowledge, skill, experience, training or education, may testify thereto in the form of an opinion or otherwise, if the testimony is based upon sufficient facts or data; the testimony is the product of reliable principles and methods, and the witness has applied the principles and methods reliably to the facts of the case."